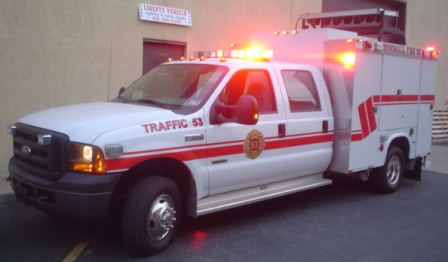 Welcome to Liberty Vehicle Lighting & Safety Supply. Your Complete one stop shop for all your Police, Fire, & Emergency Vehicle Up fitting & Safety Supply Needs! We also specialize in Landscaper & Construction Warning Lights!
Located just minutes from Philadelphia & just 2 minutes from I-95, we have a 7000sq.' facility, complete with a functioning showroom & Installation/Service Shop. Dealing with many large Construction Contractors as well as many local Police/Fire & EMS Departments our service & support is tried & true! We stock a large selection Lighting & Safety Supplies from popular Manufacturers such as 911EP, Able 2 Products, Antennex, Armour Holdings, Code 3PSE, Federal Signal, Havis-Shields, Motorola, SHO-ME, Sound-Off, Streamlight, TASER Inc., & Whelen.
In our Shop we offer complete vehicle up fitting and service. From Radios & Graphics, to Lightbars, Cages, & Push bumpers we do vehicles as small as a sedan, or as large as a 23 Ton Crane or Tri-Axle Dump truck. We also specialize in Vehicle Electrical & Wiring Systems.
Some safety supplies we sell are Flashlights, Electronic Flares, Taser Guns, Collapsible Ladders, Speed Trailers, & Traffic Cones.
Stop in or CALL US today & learn what we can do to help your vehicles be seen or make your working environment Safer! 610-356-5320
Our showroom hours are:
Monday-Friday 9:30am - 5:30pm OR by Appointment
Occasionally we have to close the showroom for service calls or training, please feel free to call to verify we're here!
We have very competitive pricing & will be glad to meet or beat ANY authorized dealer's pricing on in-stock items
Being owned by a volunteer firefighter we also offer discounts to vollys & their organizations! Not local? Give us a call & we'll ship ANYWHERE in North America!